The course is continuously updated for
155 Lessons/ over 60h
, with a preferential price of
$69
. After the course is updated, the original price will be restored to
$169
.
All the tutorials on our website are not available offline,
Facebook:
Yiihuu Official Facebook
|
Irene
|
Alexa Xu
|
Alex Luo
|
Sian
|
Cloris
Content:
HD videos+ Project files
Software:
Maya2018, ZBrush2018, Substance Painter2018.3.1,RizomUV2018, Photoshop
System:
No specific requirements, as long as support software above operating
Project file:
Provided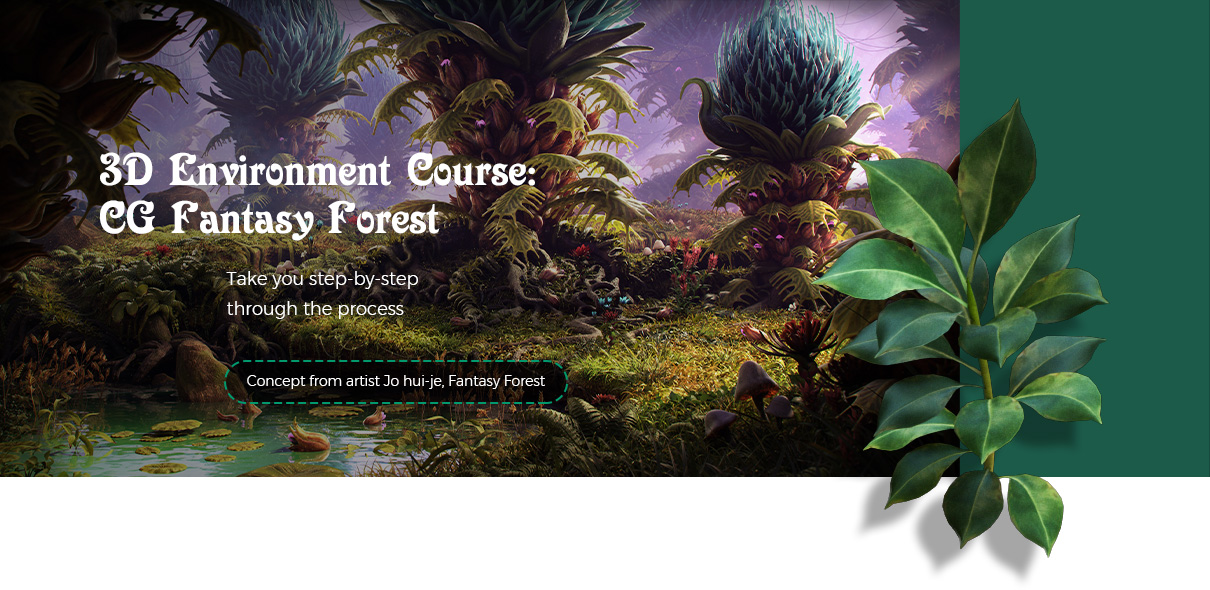 Step-By-Step
Course
Introduction
In this tutorial, I'm going to take you step-by-step through the process of creating a full 3D environment from scratch. I will show you my process for high-res sculpting, production modeling, UVs, asset management, texturing, scene assembly, lighting, and talk about best practices for working at a professional level. Some examples of topics covered include UDIM workflow, asset reusability, kitbashing, MASH scattering, atmospheric effects, lighting, and compositing. By the end of this tutorial you will have a better understanding of the entire CG creation process. As well as gain the knowledge and skills to push your personal and professional 3D work to the next level.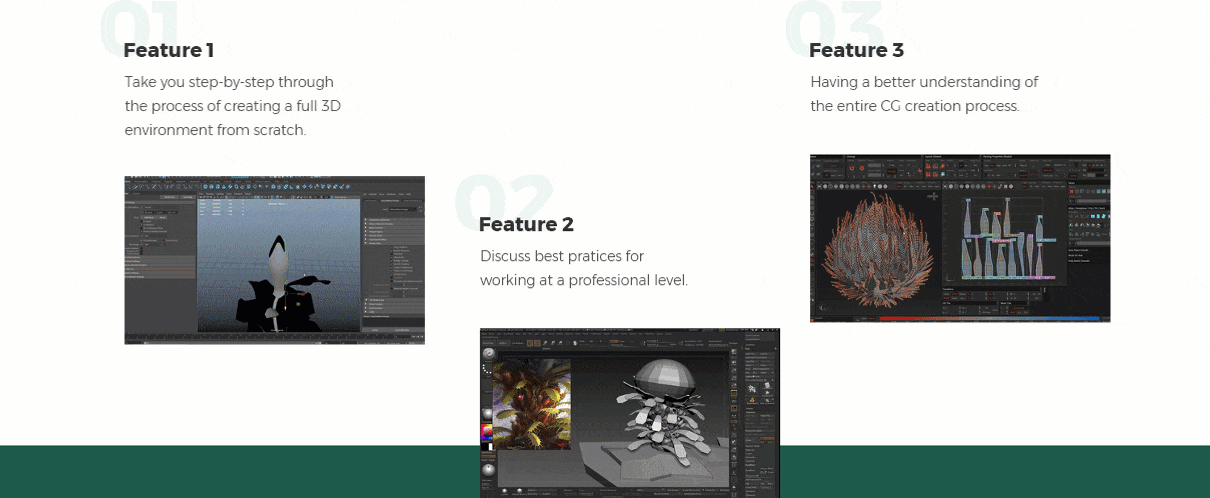 Jamir Blanco
Senior 3D modeling & lighting artist

Jamir currently lives in Orange County, California and is working at Blizzard Animation as a senior 3D modeling & lighting artist.

Jamir started his career in 2014 working for commercials and television as a 3D generalist. In 2016 he moved to Canada to work at the Moving Picture Company (MPC) as a 3D Environment Artist on "Fantastic Beasts and Where to Find Them" and "Ghost in the Shell". He relocated to California in 2017 to work at Square Enix / Crystal Dynamics as a cinematic modeler on the upcoming Marvel's Avengers game. In 2019 Jamir began working at Blizzard Entertainment's Cinematic department as a senior modeling / texturing / lighting artist.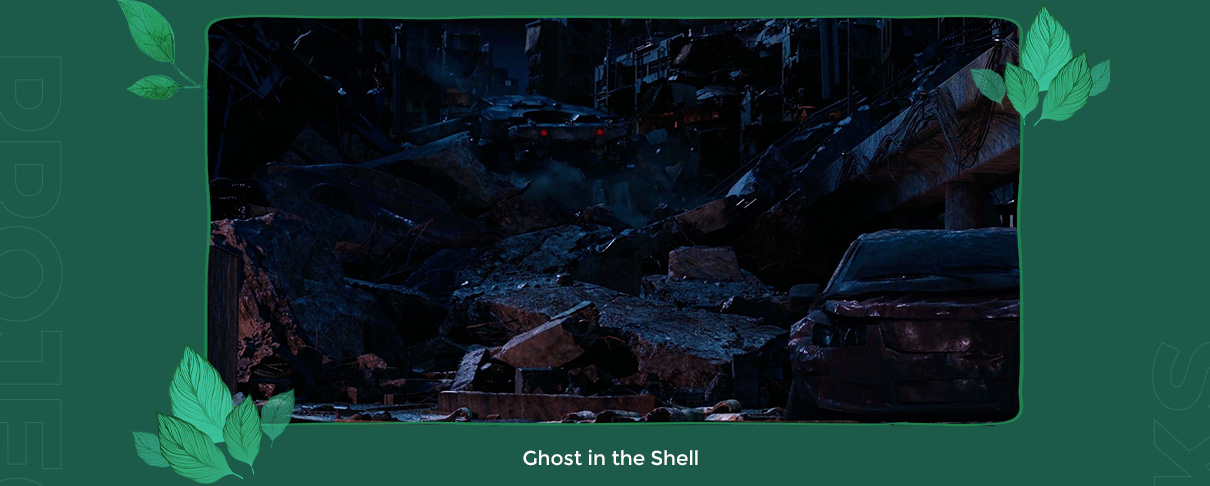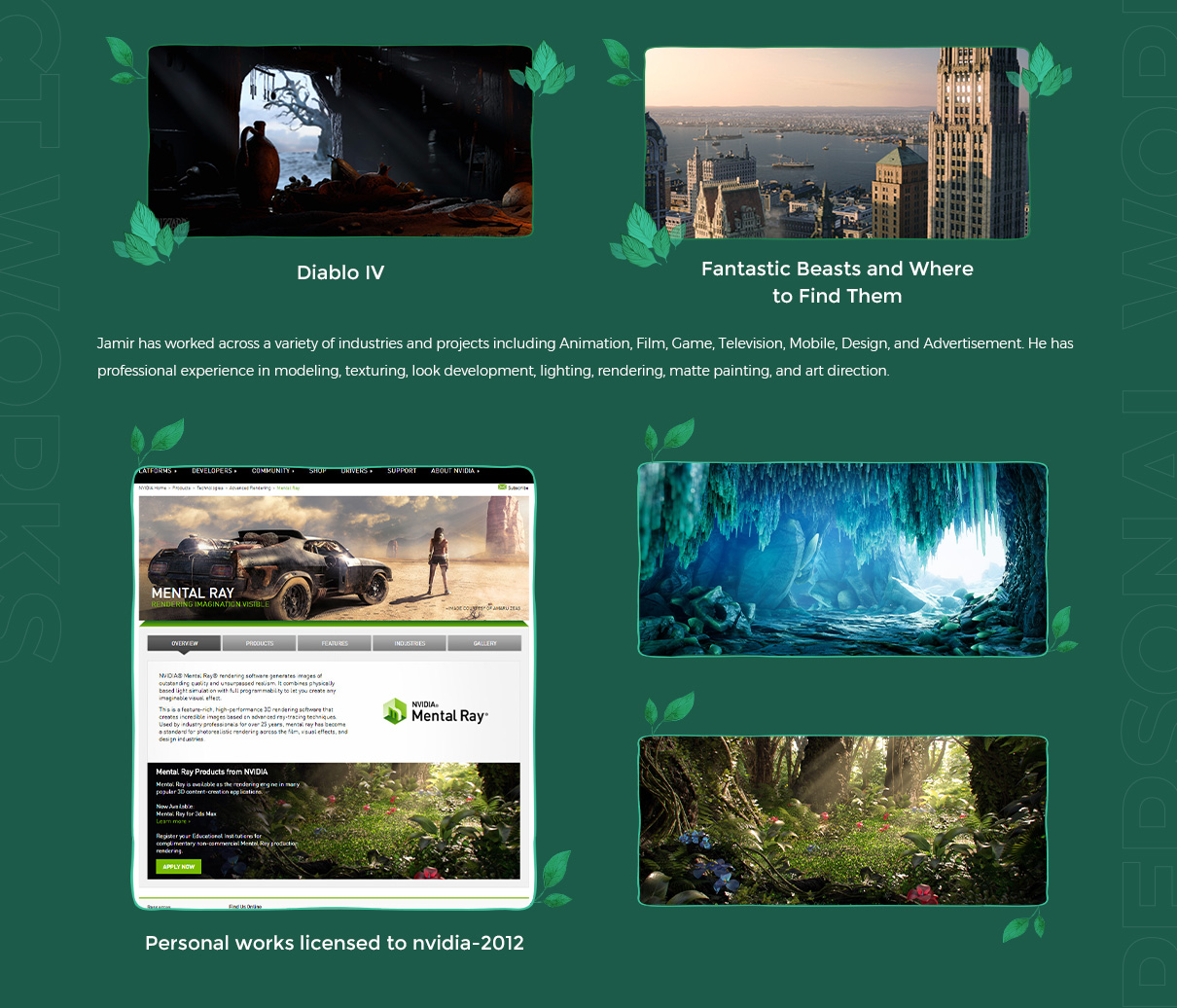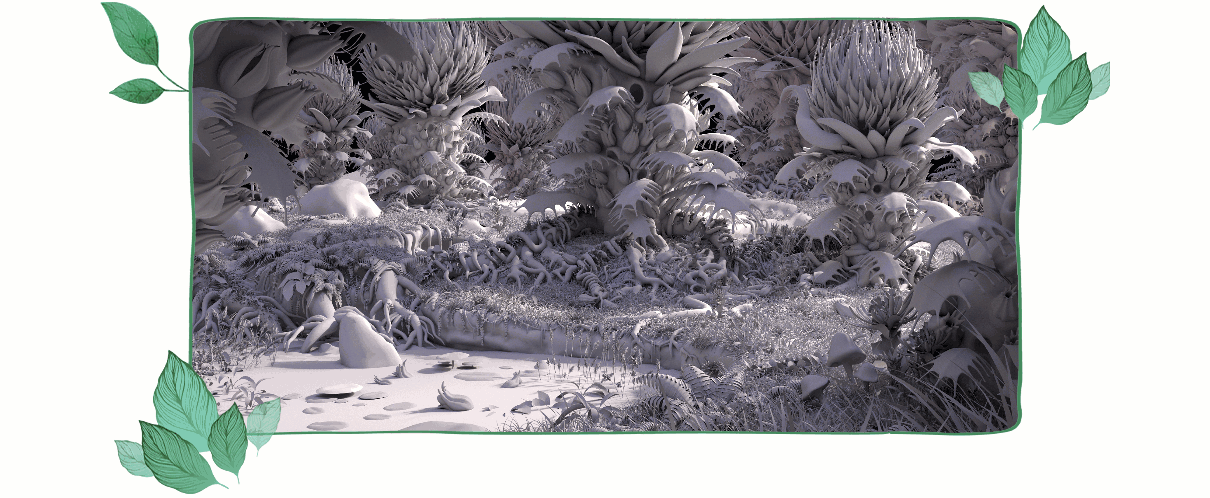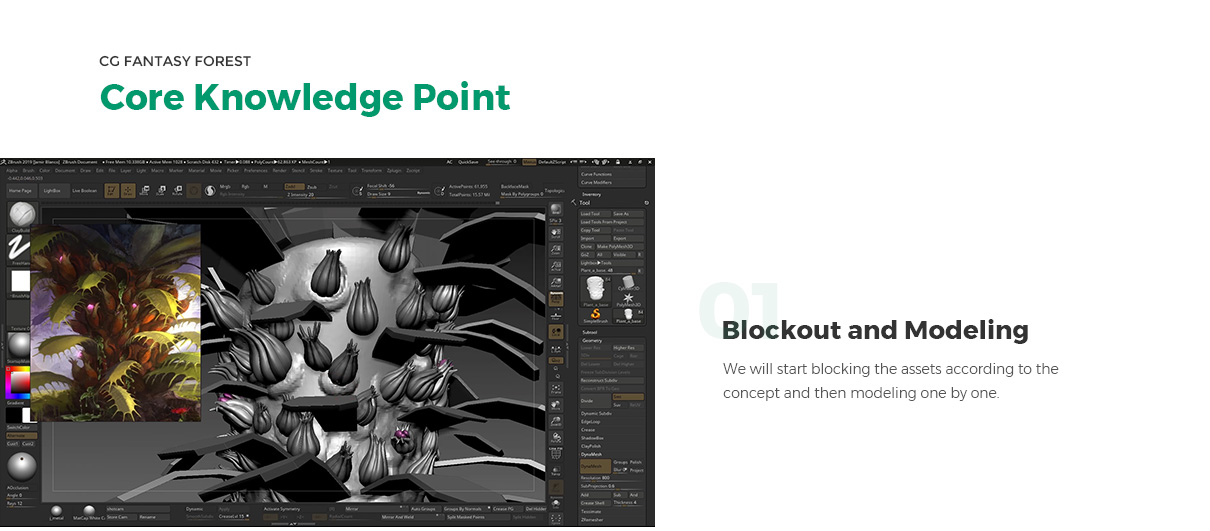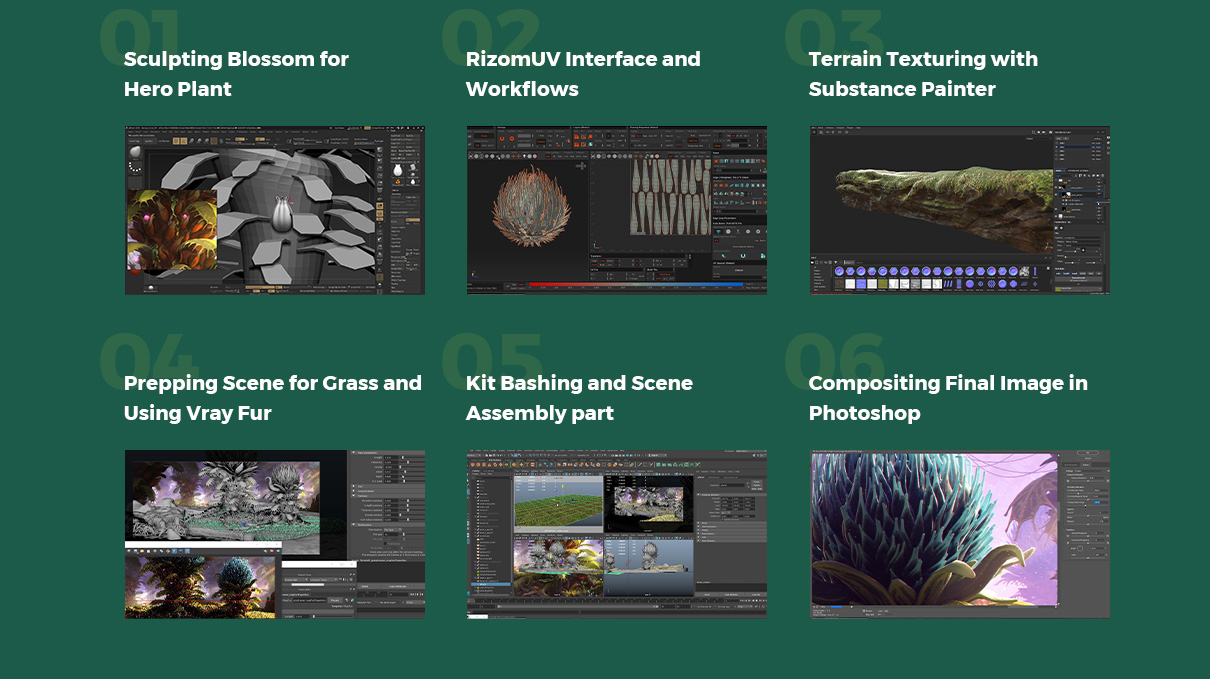 Chapter 1 - Blockout
- 1 Blockout part 1
- 2 Blockout part 2
- 3 Blockout part 3
- 4 Blockout part 4
- 5 Asset Prep for ZBrush
- 6 Sculpting Blossom for Hero Plant part 1
- 7 Sculpting Blossom for Hero Plant part 2
- 8 Sculpting Blossom for Hero Plant part 3
- 9 Sculpting Blossom for Hero Plant part 4
- 10 Sculpting Blossom for Hero Plant part 5
- 11 Sculpting Blossom for Hero Plant part 6
- 12 Placing Blossoms on Hero Plant part 1
- 13 Placing Blossoms on Hero Plant part 2
- 14 Placing Blossoms on Hero Plant part 3
- 15 Sculpting Trunk on Hero Plant part 1
- 16 Sculpting Trunk on Hero Plant part 2
- 17 Remeshing Trunk and Sculpting Hero Plant Leaves
- 18 Remeshing Leaves
- 19 Continued Sculpting on Hero Plant Leaves
- 20 Placing Leaves on Hero Plant part 1
- 21 Placing Leaves on Hero Plant part 2
- 22 Prepping Top Leaves and placing with NanoMesh
- 23 Adjusting Top Leaves and Modeling Transition Leaves
- 24 Modeling Roots part 1
- 25 Modeling Roots part 2
- 26 Modeling Roots part 3
- 27 Roots Continued and Fibermesh Grass
- 28 Model Adjustments part 1
- 29 Model Adjustments part 2
- 30 Continued Adjustments and Sculpting
- 31 Modeling second Hero Plant
- 32 Modeling Roots and Vines for second Hero Plant
- 33 Fibermesh, Mushrooms, Terrain for second Hero Plant
- 34 Sculpting the Terrain
- 35 UVing the Leaves
- 36 RizomUV Interface and Workflows
- 37 UVing the Blossoms
- 38 UVing the Roots part 1
- 39 UVing the Roots part 2
- 40 UV layout in Maya part 1
- 41 UV layout in Maya part 2
- 42 UV layout in Maya part 3
- 43 UVing the second Hero Plant part 1
- 44 UVing the second Hero Plant part 2 , Mushroom UVs
- 45 Prepping rest of terrain for Sculpting
- 46 Terrain Sculpting continued
- 47 Terrain Roots and Vines Modeling part 1
- 48 Additional Fibermesh and Rock Sculpting
- 49 Pond Sculpting, Remeshing Terrain
- 50 UVing rest of Terrain and Assets
- 51 Laying out UVs on rest of Terrain and Assets
- 52 Vines Pass on Terrain
- 53 Foreground Terrain and Prepping for Substance Painter
Chapter 4 - Texturing
- 54 Terrain Texturing with Substance Painter part 1
- 55 Terrain Texturing with Substance Painter part 2
- 56 Terrain Texturing with Substance Painter part 3
- 57_01 Terrain Materials and Lighting with VRay part 1
- 57_02 Terrain Materials and Lighting with VRay part 2
- 58_01 Lighting continued and prepping second Terrain for Texturing
- 58_02 Prepping second Terrain for Texturing part 2
- 59 Terrain 02 Texturing in Substance Painter part 1
- 60 Terrain 02 Texturing in Substance Painter part 2
- 61 Terrain 02 Finish Texturing and Export to Maya
- 62 Hero Plant 01 Prep for Substance Painter
- 64 Hero Plant 01 Texturing the Trunk part 1
- 65 Hero Plant 01 Texturing the Trunk part 2
- 66 Hero Plant 01 Texturing the Upper Part
- 67 Hero Plant 01 Texturing the Leaves part 1
- 68 Hero Plant 01 Texturing the Leaves part 2
- 69 Hero Plant 01Blossoms 2nd Pass UVs
- 70 Hero Plant 01Blossoms Integrating latest UVs
- 71 Hero Plant 01 Texturing the Blossoms part 1
- 72 Hero Plant 01 Texturing the Blossoms part 2
- 73 Hero Plant 01 Texturing the Trunk Leaves
- 74 Hero Plant 01 Texturing Roots and Vines part 1
- 75 Hero Plant 01 Texturing Roots and Vines part 2
- 76 Hero Plant 01 Materials in Maya and VRay part 1
- 77 Hero Plant 01 Materials in Maya and VRay part 2
- 78 Hero Plant 02 Additional Sculpting part 1
- 79 Hero Plant 02 Additional Sculpting part 2
- 80 Hero Plant 02 Prep for Substance Painter part 1
- 81 Hero Plant 02 Prep for Substance Painter part 2
- 82 Hero Plant 02 Cleaning up UVs, Texturing in Substance Painter part 1
- 83 Hero Plant 02 Texturing in Substance Painter part 2
- 84 Hero Plant 02 Material setup in Maya and Vray part 1
- 85 Hero Plant 02 Material setup in Maya and Vray part 2
- 86 Mushroom Asset Sculpting
- 87 Mushroom Asset UVs and Prep for Substance Painter
- 88 Mushroom Asset Texturing
- 89 Mushroom Material setup, Pond Modeling
- 90 Pond Texturing and Shading
- 91 Pond Shading and Lighting part 1
- 92 Pond Shading and Lighting part 2
Chapter 5 - Vegetation
- 93 Lilypad Sculpting
- 94 Lilypad Texturing and Lookdev
- 95 Intro to Paint Effects for creating vegetation
- 96 Modeling Vegetation part 1
- 97 Modeling Vegetation part 2
- 98 Modeling Vegetation part 3
- 99 Modeling Vegetation part 4
- 100 Modeling Vegetation part 5
- 101 Modeling Vegetation part 6
- 102 Modeling Vegetation part 7
- 103 Modeling Vegetation part 8
- 104 Modeling Vegetation part 9
- 105 Modeling Vegetation part 10
- 106 Variations Part 1
- 107 Variations Part 2, Prepping Scene for Grass
- 108 Prepping Scene for Grass and Using Vray Fur
- 109 Grass with VRay Fur part 2
Ch
ap
ter 6 - Scene Assembly
- 110 Kit Bashing and Scene Assembly part 1
- 111 Kit Bashing and Scene Assembly part 2
- 112 Kit Bashing and Scene Assembly part 3
- 113 Scattering and Scene Assembly with MASH in Maya
- 114 Using Hero Plants to populate rest of environment
- 115 Scene Assembly continued and Fog for Deh
- 116 Foreground Vegetation Pass part 1
- 117 Foreground Vegetation Pass part 2
- 118 Pond Vegetation Pass part 1
- 119 Pond Vegetation Pass part 2
- 120 Pond Light Linking , Vegetation Pass Continued
- 121 Midground Vegetation Scattering with MASH Placer brush
- 122 Vegetation Material Adjustments part 1
- 123 Vegetation Material Adjustments part 2
- 124 Midground Vegetaion Continued
- 125 Midground Vegetaion part 2
- 126 Midground Vegetaion part 3
- 127 Background Vegetation Pass and Hanging Vines part 1
- 128 Background Vegetation Pass and Hanging Vines part 2
- 129 Vegetation Polish part 1
- 130 Vegetation Polish part 2
- 131 Modeling Foreground Flower part 1
- 132 Modeling Foreground Flower part 2
- 133 Integrating New Flower Asset
Chapter 7 - Volumetrics, Rendering, Compositing
- 134 Light Cards for Volumetric Effects
- 135 Render Settings and Volume Fog part 1
- 136 Volume Fog part 2
- 137 Assembling Passes for Compositing
- 138 Compositing Final Image in Photoshop part 1
- 139 Compositing Final Image in Photoshop part 2
- 140 Compositing Final Image in Photoshop part 3
- 141 Compositing Final Image in Photoshop part 4
- 142 Final Thoughts