AAA 3D Character Creation: From Beginning to Unreal Engine 5


Software:










Optional Softwares: KawaiiPhysics; MagicUV; Uefy; Texel Density Checker; Quixel Megascans
Feedback: Assignments Feedback
Lecturer: Henrique Sales
Lessons: 88 lessons / 44h31m
Update Policy: Monthly
Content: HD videos + Project file
Group: Private Group
$45.00×4
(Payment in 4 instalments by

)
$180.00
Noted: Hire Purchase will have $N service fees plus and can't enjoy discount at the same time. If the purchaser fails to full fill the payment on time, the access to the course will be frozen until it is paid.

Play Video



An easy guide into AAA Character Creation
Here you'll learn every step needed to make the character of your dreams game-ready in UE5, starting from a single idea! A comprehensive guide to those who not only want to watch the steps of a character making but also learn every trick in the book to make their own creations as easy and good-looking as possible.
By the end of this course, you'll learn everything you might need in order to make a high-quality game character of your choice. By showing you how I work over my character, you'll understand the concept of everything from sculpting to texturing, rigging, animation, and simulation inside the engine. You'll know tips and tricks to make your workflow faster and better, plugins and packs that will be saving you hours of work, and ways to make just about everything look beautiful.
Prerequisites: There is no need to have previous knowledge about the software and the techniques used, but it'll be easier for those who have them.
You'll only need to have (at least) introductory knowledge about 3D in general. What are meshes, low-poly, textures, UV […] What are rigging and game engines for, etc.

Course Overview

Files Included

Seek More Advice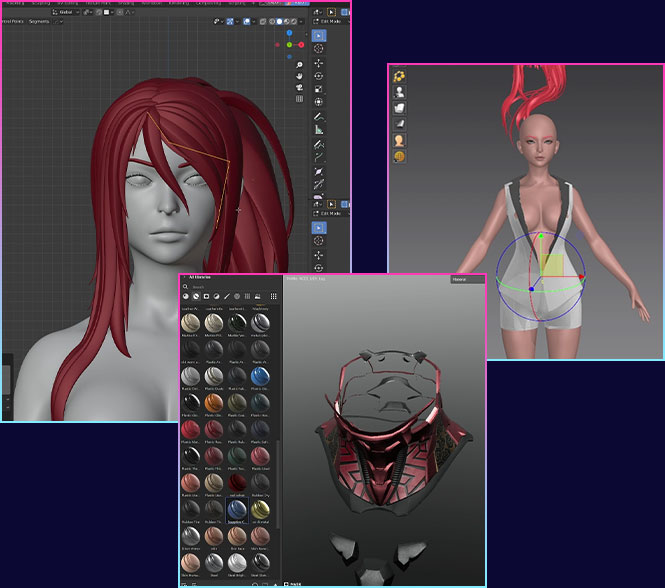 Turnable 1
Turnable 3
Turntable 2
Turnable 4


01
Before Starting
Before we start, I will give a brief explanation over all the files included, software being used, and some warnings you should know about.
02
Getting Started
In this chapter, I will tell you where to download the Software and the plugins used, work showcase from people already established in the industry, what we are going to use from them and how to get started working with it.



03
Tips and Tricks
In this chapter I will take about the tips of making your character creation workflow better and faster, every tip in the whole workflow I got I will tell you all of it.
04
Character Sculpting
In this chapter, we will start creating our chapter, sculpting her body, hair, hard surface parts. I also got assignments for you in this chapter. From this chapter on, you will get the assignments that I made for you, and start to do your assignment every chapter after to help you get in-depth.



05
Clothing
In this chapter, I will tell you how I define the clothing structure that'll be used, how I do the cloth sketching, simulation, and detailing.
06
Polishment
In this chapter, I will tell you where to download the Software and the plugins used, work showcase from people already established in the industry, what we are going to use from them and how to get started working with it.



07
Retopology and Baking
In this chapter, we'll make the adjustments for the low-poly version and delete everything that won't be shown. After that, we will make the UV's of the character, decimate your model to lower the polycount, and then pass the information from the decimated into the lowpoly. We'll bake it inside Zbrush.
08
Texturing
At first, I will try matching Viewport with UE5, making sure that the looking will be similar in both painter and unreal engine 5. and then introduce another guide to help you through starting with Substance Painter. We'll do the texture with Substance Painter.



09
Rigging
At the very beginning, I will talk about the theory about what your topology needs to have for proper rigging and get you to know a little bit about the Unreal Engine Rig. And then we start to skinning the character.
10
Getting to Life Inside Unreal Engine
In the last chapter, we will overview the project file and the plans for the final animation. I will use the plugin Kawaii Physics to make the simulation that makes the best results for the character.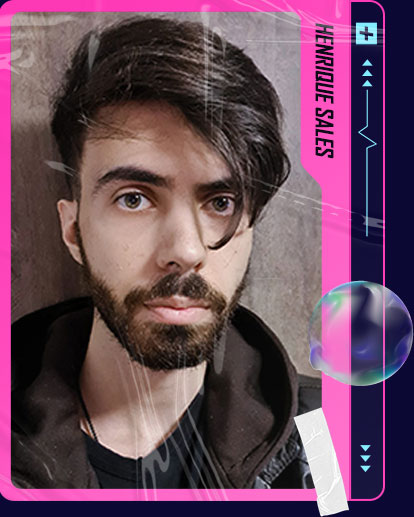 Henrique Sales
Senior 3D Artist and Unreal Engine 5 Programmer
I am a Brazilian Senior 3D Generalist and Unreal Engine Programmer since the very beginning. I'm specializing in Character Creation for Real-Time Game Engines, but in the near future, I'll be also involved in Prop and Environment Art, alongside Unreal Engine 5 programming and everything that comes with it (VFX, Shading, Illumination, etc).
I can say with ease that I'm going to the stage that is reaching Advanced 3D art. My knowledge involves pretty much everything that you need to complete an artwork from very scratch, going into subjects such as Modelling, Texturing, Rigging, Animation, Shaders, and implementation on the game engine.
My ultimate goal is to be able to create pretty much everything you need to create a fully working high-quality video game.














Q: What do I need to do before learning this tutorial?
I would suggest that you strengthen some foundation in drawing and constructing figures/environments as this is a tutorial that does not cover that. Understanding how to draw different objects in perspective will bring you much closer to the desired results.
Q: Is there any project file provided for the tutorial?
There is a full PSD tutorial provided as well as a Pure Reference file that contains all of my reference images. I will also provide the brush sets that I used to complete the illustration. Disclaimer: I do not own the brush sets, it's a collection of brushes that have been shared by different artists in the past.
Q: Can I download the videos?
For IP protection, all the video can only be watched online. Learners need to use a software provided by Wingfox to watch the videos.
Q: What are the payment methods?
You can choose full payment or installment payment after subscription. (Note: Installment payment will cause service fees. At the same time, you can only watch the class under the current subscription. If you cancel the subscription, you can't watch the following classes.)
Q: Who is the target audience of the tuorial?
This tutorial is aimed for students with basic to intermediate skills. It should help them connect the dots on many things they have learnt before but unsure how to properly apply them through out an illustration.
Q: What can I benefit the most from the tutorial?
The tutorial touches on many of the obstacles that I ran into myself. This tutorial should prove quite helpful for students having trouble with artist blocks, creativity approaches and understanding values and colors.

Full Payment
$180
√

Free to watch the entire tutorial


√

Finish update


√

Permanently access
Buy Now
4 monthly payment
$45x4
√

Free to watch any updated video monthly payment with simultaneously update

√

Monthly update (Finish in 4 months)


√

Permanently access
Buy Now