Notice: The course is continuously updated for 53 lectures / 30 hours, with a preferential price of $49. After the course is updated, the original price will be restored to $99.
All the tutorials on our website are not available offline,
Facebook: Yiihuu Official Facebook | Irene | Alexa Xu | Alex Luo | Sian | Cloris

Content: HD Video Tutorial + Project file
Software: Bodypainter3D r15 / 3ds Max 2019
Assistant softwears: photoshop CC 2019(or Any version)
System: No specific requirements
Project file: Base Modeling + Reference Image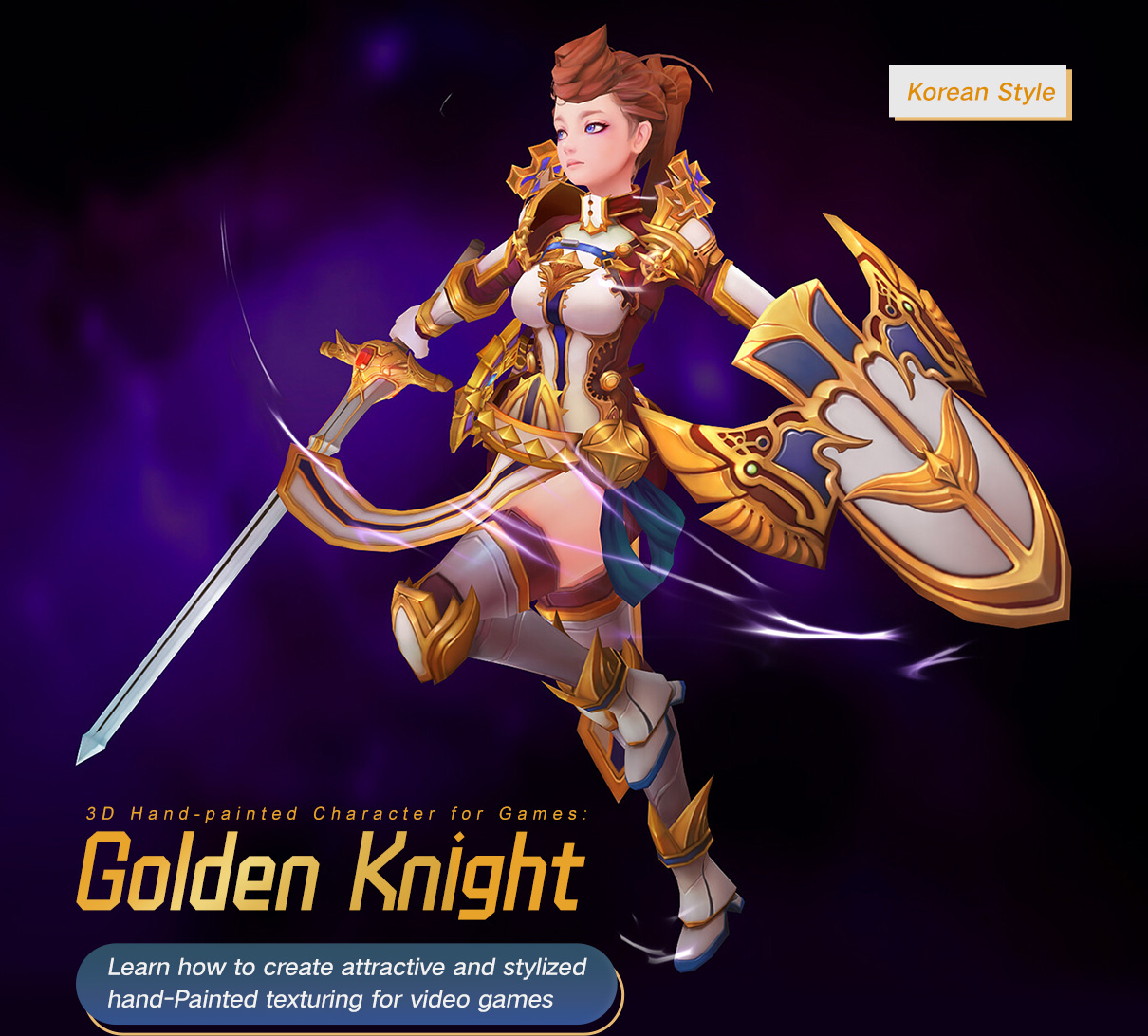 In this tutorial, you will learn an effective method of creating a 3D hand-painted game character, as well as how to use well lighting and coloring to create a deep impression. In the tutorial, the instructor will also explore the methods of how to use materials to emphasize your design. In addition, you also could learn some basics of character rigging and pose.

This course is aiming for those who want to know a complete workflow of how to create a hand-painted character for games or those who want to learn how to create an attractive hand-painted character with colors and lighting or anyone who wants to get started in this field!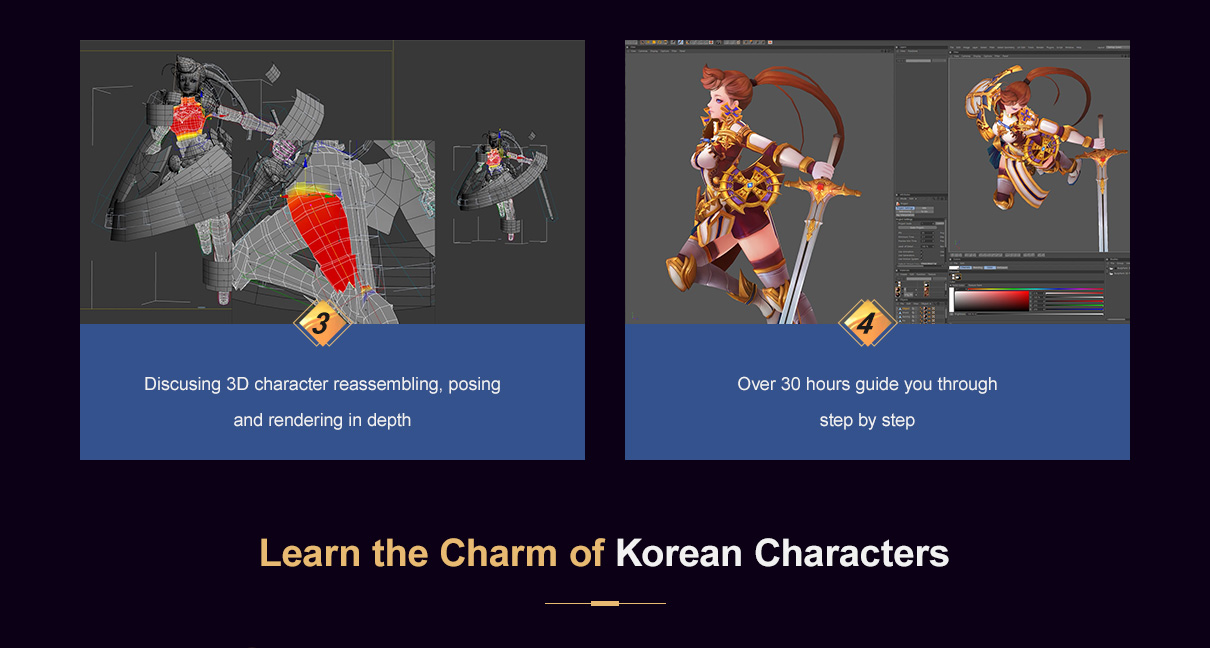 Yang Sang Yun (양상윤)
Senior Character Modeler
I'm a 3D character modeler in Korea.

I have 8 years of experience working as a fulltime. I am currently working as a freelancer and not only in Korea but also in many foreign countries. I spend a lot of time working mainly on hand-painting mapping modeling, creating a variety of styles and attractive tasks with continuous research and personal work. I hope you enjoy the charm of hand-painting mapping with my lecture.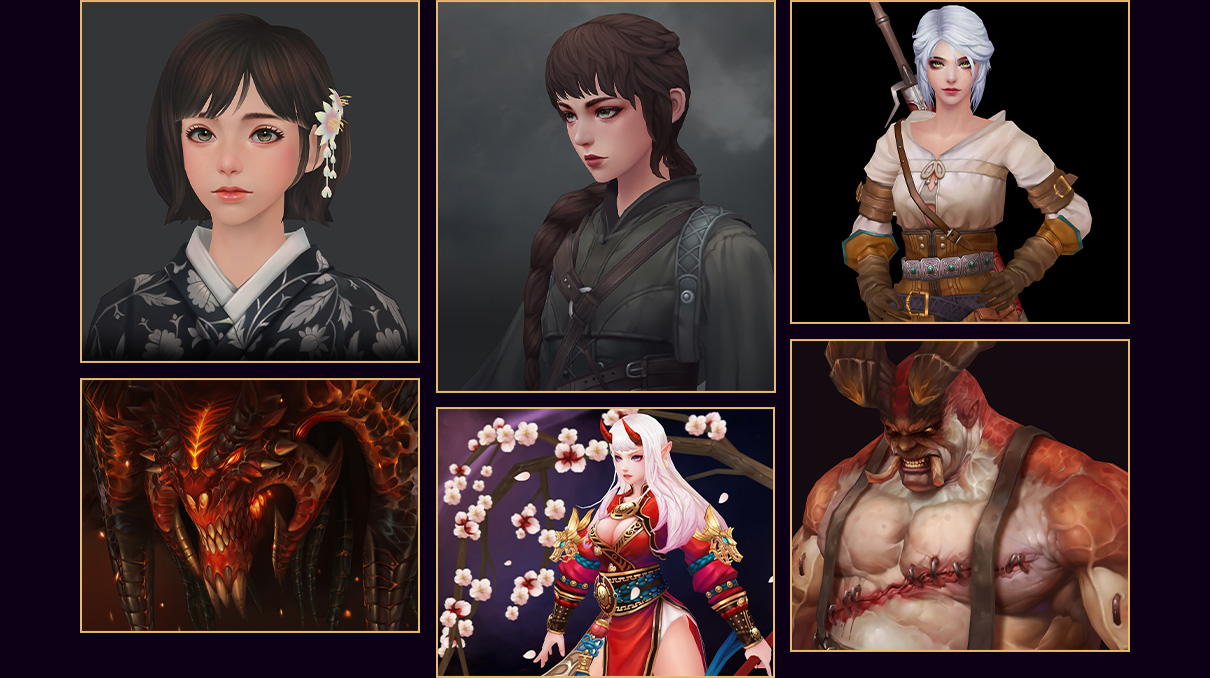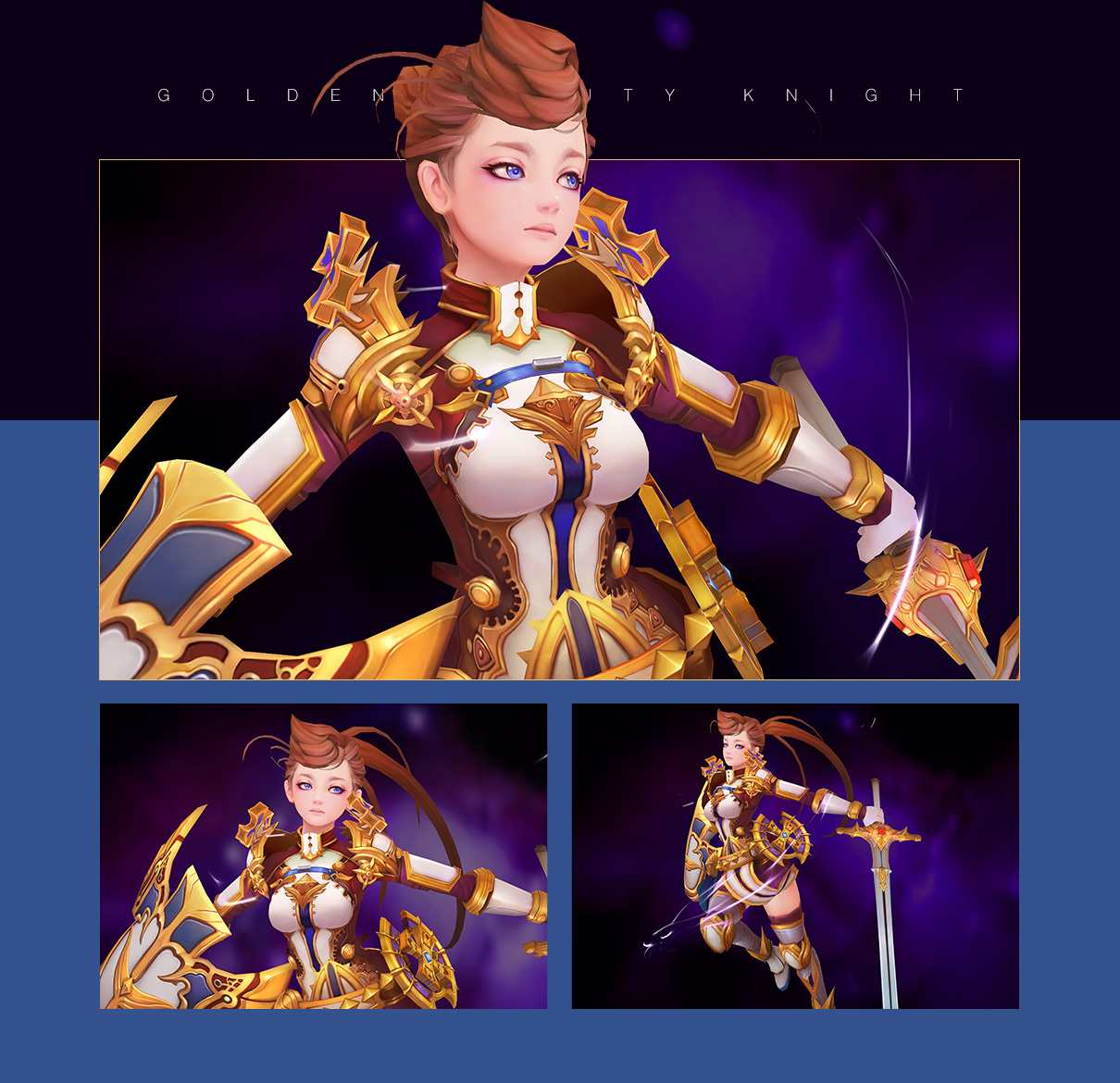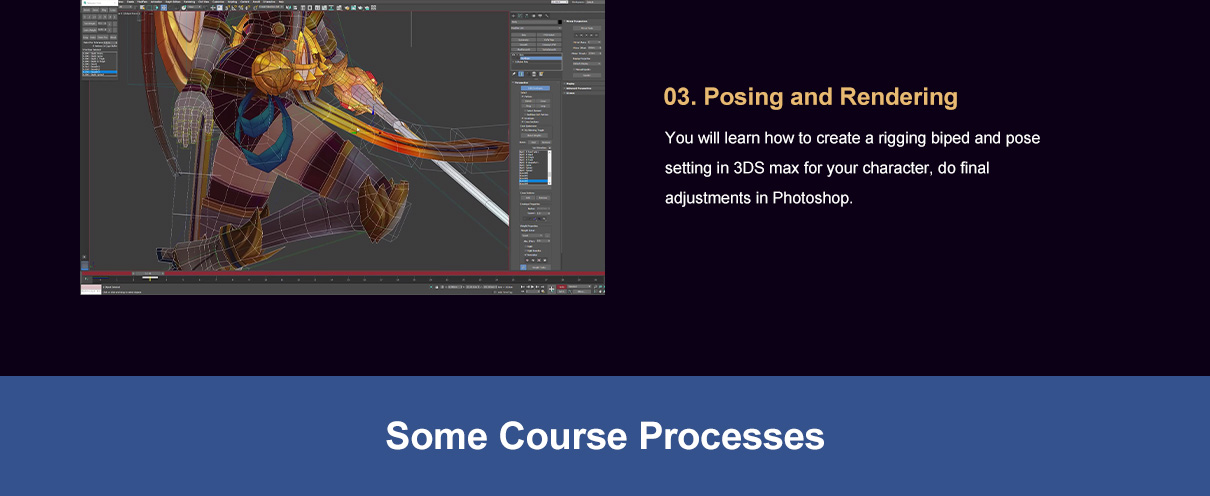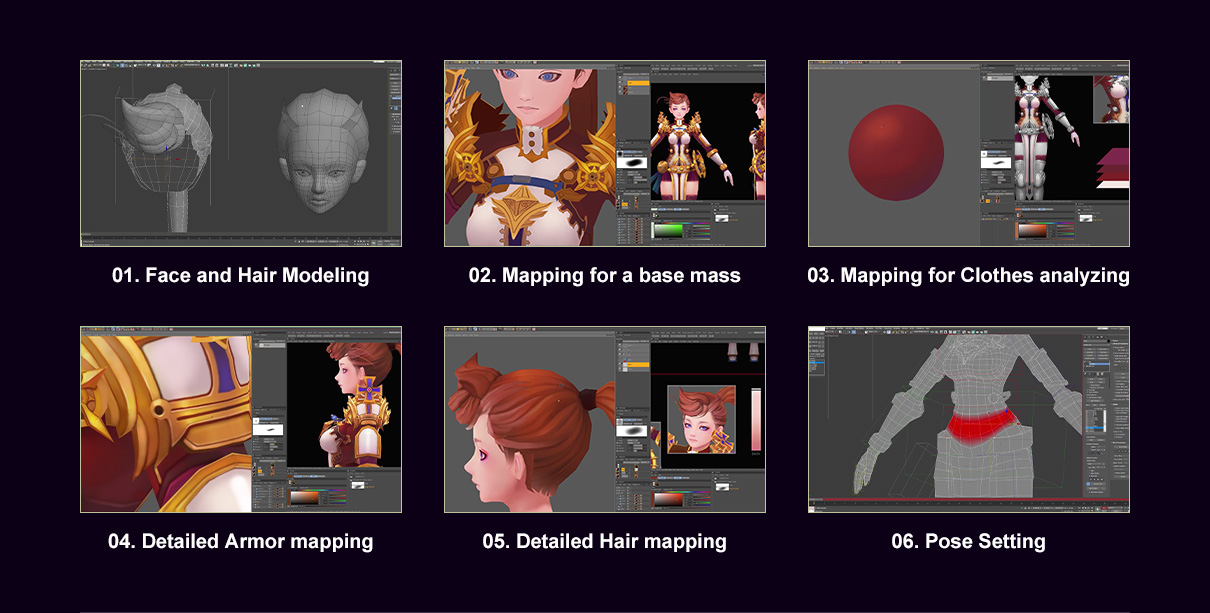 1. Introduction to Workpiece
2. Character analysis
3.1 Base body Modeling Part 1
3.2 Base body Modeling Part 2
4.1 Face and Hair Modeling Part 1
4.2 Face and Hair Modeling Part 2
4.3 Face and Hair Modeling Part 3
5.1 Armor and Weapons Modeling Part 1
5.2 Armor and Weapons Modeling Part 2
6.1 Character and Weapon Unwarp UVW Part 1
6.2 Character and Weapon Unwarp UVW Part 2
7 Initial Approach to Mapping
8.1 Use the BodyPainter and Apply Basic Colors Part 1
8.2 Use the BodyPainter and Apply Basic Colors Part 2
9.1 Mapping for a base mass Part 1
9.2 Mapping for a base mass Part 2
9.3 Mapping for a base mass Part 3
10.1 Mass Cleaning and Glazing Techniques Part 1
10.2 Mass Cleaning and Glazing Techniques Part 2
10.3 Mass Cleaning and Glazing Techniques Part 3
10.4 Mass Cleaning and Glazing Techniques Part 4
11.1 Mapping for Clothes analyzing Part 1
11.2 Mapping for Clothes analyzing Part 2
12.1 Mapping for Armor and Weapons analyzing Part 1
12.2 Mapping for Armor and Weapons analyzing Part 2
13.1 Mapping for Face and Hair analyzing Part 1
13.2 Mapping for Face and Hair analyzing Part 2
14.1 Detailed clothing mapping Part 1
14.2 Detailed clothing mapping Part 2
14.3 Detailed clothing mapping Part 3
15.1 Detailed Armor mapping- Arm
15.2 Detailed Armor mapping- Waist
15.3 Detailed Armor mapping- Body
15.4 Detailed Armor mapping- Leg
15.5 Detailed Weapons mapping Part 1
15.6 Detailed Weapons mapping Part 2
15.7 Detailed Sword mapping Part 1
15.8 Detailed Sword mapping Part 2
16.1 Detailed Face mapping Part 1
16.2 Detailed Face mapping Part 2
16.3 Detailed Hair mapping Part 1
16.4 Detailed Hair mapping Part 2
17.1 Correcting after mapping Part 1
17.2 Correcting after mapping Part 2
18 UV editing for Modifying and adding mapping
19 Final inspection and theorem
20.1 Using the Bipad and Pose Setting
20.2 Pose Setting Part 1
20.3 Pose Setting Part 2
20.4 Pose Setting Part 3
21.1 Rendering at 3ds Max Part 1
21.2 Rendering at 3ds Max Part 2