Mastering the Art of Isometric Room Design in Blender 3
Lecturer:
3D Tudor Limited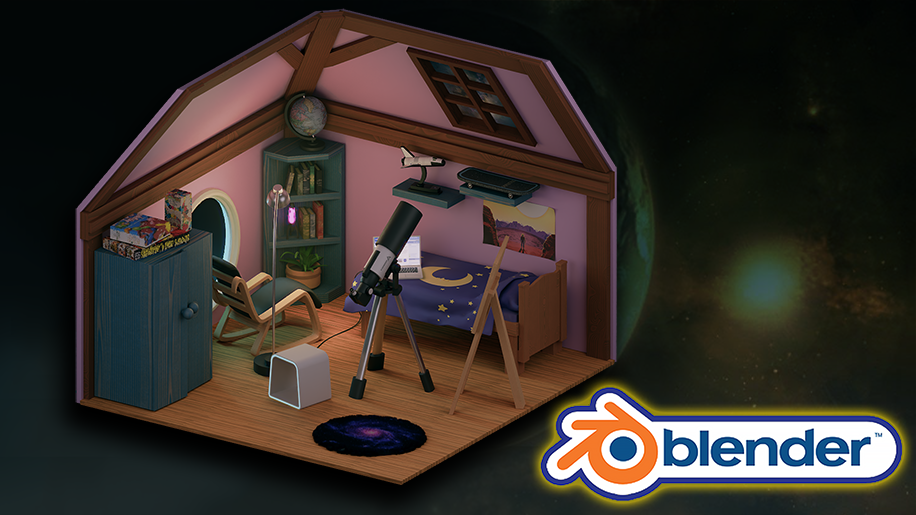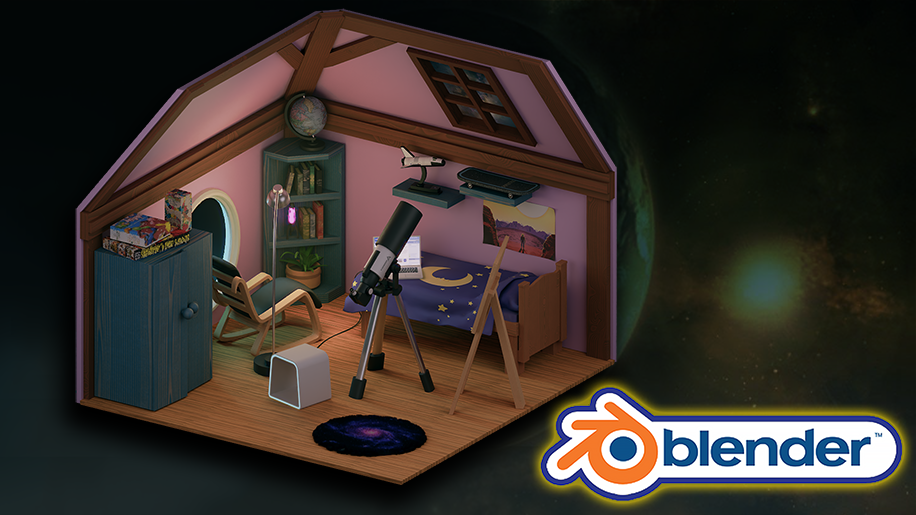 Mastering the Art of Isometric Room Design in Blender 3
Mastering the Art of Isometric Room Design in Blender 3
Lecturer:
3D Tudor Limited
Overview
What will you learn
• Creating a stylised isometric room interior based on the Sim City and Sims franchise art style • Becoming a Blender node guru by adding nodes to your imported maps to completely change the way they look and feel using Blender's compositor and node system
• Using Blender 3 and understanding its new interface and shortcuts • Simulating cloth and using Blender's particle system for wrinkles, folds, and drapes
• Speeding up your 3D modelling workflow • Becoming a magician of all types of lighting in Blender
• A course within a course introduction into (a) Blender basics, (b) materials and textures, (c) seams, sharps, and UVs • Adding depth to scenes using volumetrics
• Completing a full referencing guide to creating 3D art for games in Blender • Making your renders pop through a full Blender compositing guide
• Maximising the potential of your references to develop strong game asset concepts using Pureref • Learning how to use 3-point lighting and volumetrics as 3D model backgrounds for your portfolio
• Making concrete steps in your path towards mastering 3D modelling even as a beginner • Utilising rendering to improve the quality of presentation Eevee and Cycles X – For amazing professional renders
• Learning everything there is to know about textures and shaders
Students
• Beginner 3D modellers eager to learn how to isometric rooms, 3D stylised furniture and much more
• Enthusiasts of Blender who want to fast-track their understanding of its new and exciting changes
• Mid-Level 3D modellers who want to take their modelling to a new level and improve their workflow with tips and tricks
• Fans of the Sim City and Sims franchise art style who want to learn how to create something similar that could also be used as custom content (CC) in the marketplace
Lecturer
I'm Neil from 3D Tudor and I live in Cyprus. I spent most of my life in the United Kingdom, near the Peak District. I am a 3D artist with 9 years of modelling experience, including assets, characters, and environments. In 2019, I founded 3D Tudor out of my passion for 3D modelling which I wanted to share with others. My courses are aimed at 3D modellers of all levels, with a great number of new tips and tricks. Each course is different, with most common themes including medieval England Tudor game assets and buildings. I am one of the only instructors who use live on-screen tooltips throughout my lessons, helping learners to follow along, without the need to go back and revisit previous shortcuts. This enables absolute beginners and mid-range learners to learn alongside one another, with nothing holding them back, and at different paces, chosen by each student. I initially got started with 3D modelling because of my passion for gaming. Some of my first 3D models included creating assets for City Skylines workshop. I began freelancing after attending the University for the Creative Arts (UCA) for a BA(Hons) Computer Games Arts degree. As a freelancer, I expanded my portfolio through work on historical assets and environments. I had a drive and passion to teach so alongside freelancing, so I began creating courses for people like me. This led me to doing a job I really love.
Discussions
You must be purchased to post a comment.
Buy Now !